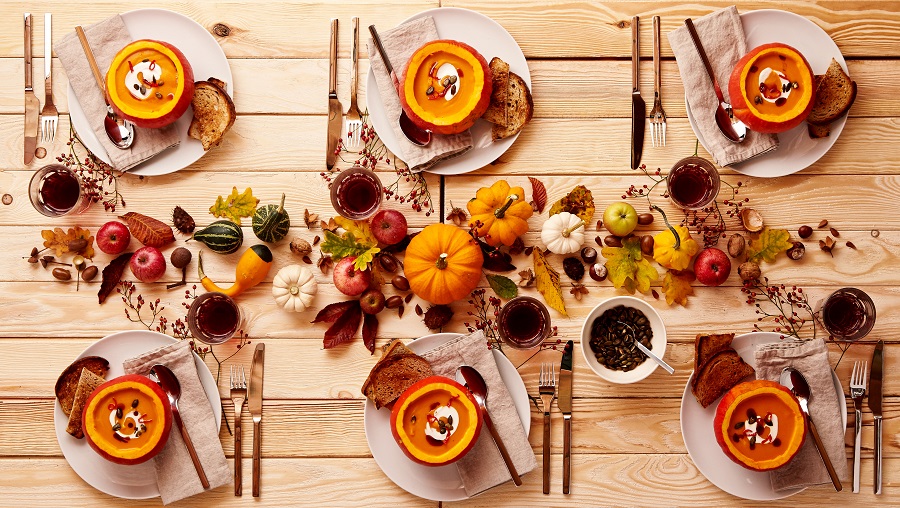 From summer farmer's markets, music and food festivals to autumn harvest, here we are, Thanksgiving and holiday season are upon us.
Harvest, the noun, came from old English word 'haerfest' meaning 'autumn' the season. The process of gathering all a ripe crop from the fields is harvesting.
Completion of harvest marks the end of a growing season or cycle and the social importance of this is the tradition of our Canadian Thanksgiving which, usually falls about six weeks prior to American Thanksgiving. South of the border, the crops are harvested a little later than in Vancouver Canada.
As the harvest moon slips quickly to the foggy dawn, we move out of our backyards and away from our barbecues into the warm indoors and cozy by stoves and fires where the aromas of pumpkin spice, soups and roasted turkey dinners bring families and loved ones together.
Fragrances of apple and pumpkin pie drench my senses and fill me with pleasure.
Time falls back, and lazy summer days morph into the month's ahead in keeping with hallowed family tradition.
In our kitchen, lazy days are nil especially with the holidays quickly approaching.
Stock pots are brewing and the kitchen aid churns batches of cookie dough in anticipation of Christmas coming.
Turkey dinners and lunches are ordered for staff Christmas parties and soirées to be catered.
Gift baskets are created by the elf staff with care and precision.
Bows are tied, labels affixed, icing sugar dusted and final touches are in place.
We are ready! Bring on the holiday cheer.
---
The Vancouver summer dwindles away most notably as dusk is upon us earlier. Although there are never enough hours in the day, I always panic a little because now, the days seem even shorter to fit in all I have to do. Summers are always busy for me, and a hot kitchen is a far cry from a beach or a deck chair on a dock. Alas, such is the life of a chef and the owner of a catering company!
The gage of a good summer to me, is how often I am in or by large bodies of water; I exclude hot tubs and baths.
This summer I have fallen madly for another refreshing wet fix after a hard day with two of my favorite things. Wine and peaches = Bellinis! This perfect pair has rescued me from the days that I don't have the time or energy to be revitalized by the water's side. I think there is something exotic about this cocktail that mentally transports me to its city of origin just after the elixir touches my tongue. This sublime flavor of summer bottled has been a sanctuary for moments alone or reuniting with friends and family at events.
This cocktail originated in Venice, Italy. The Bellini was invented sometime between 1934 and 1948 by Giuseppe Cipriani, founder of Harry's Bar in Venice, Italy. The drink was named the Bellini because of its unique pink color which reminded him of the toga of a saint in a painting by 15th-century Venetian artist Giovanni Bellini.
The Bellini consists of puréed peaches and Prosecco, an Italian sparkling wine. Marinating fresh peaches in wine is an Italian tradition. The original recipe was made with a bit of raspberry or cherry juice to give the drink a pink glow. For a non-alcoholic version, sparkling juice or seltzer is used in place of the Prosecco.
As summer turns cool on us, the Bellini will take a back seat to the usual glass of red comfort at the end of a chilly day with dinner. Later, by the fire, I can tuck into a scoop of this Peach Prosecco ice cream and dream of the summer days ahead with a chilled Bellini in hand.
Ingredients
4 ounces fresh ripe B.C. peaches hulled & skinned
½ cup heavy cream
¼ cup prosecco
2/3 cup superfine sugar
3 tablespoons fresh lemon juice
18 ounces frozen sliced peaches
Instructions
Place the fresh peaches, heavy cream, sugar and lemon juice in the blender in the order listed. Select the lowest setting and gradually increase the speed to SPEED 4. Blend until sugar is fully dissolved, about 45 seconds.
Add frozen peaches to blender. Select low setting, and gradually increase the speed to SPEED 5 and blend until ice cream is smooth, about 1 minute. Use tamper as needed to stir the ice cream mixture and push it down.
Serve immediately, or freeze for several hours if firmer texture is desired.
Recipe Notes
If you don't have superfine sugar in your pantry, you can use your blender to achieve the same texture using granulated sugar. Place 1 cup granulated sugar in a dry blender jar. Pulse repeatedly until superfine texture is reached, 45 to 60 seconds. (To make powdered sugar, pulse for 75 to 90 seconds.) Reserve extra 1/3 cup of sugar for another use.
---
We are delighted to announce the launch of our new website!
Our new website provides our existing and prospective clients a simple yet interactive view of our work and the services we offer. Stay tuned to our blog for new ideas! Sign up here so you never miss an update.
For any enquiries and feedback, please write to us at laura@cheflaura.ca or call us at 604-916-5253
---
One thing that I love about what I do, is everyday is different. Tuesday evenings are a family cooking class. A young hip mom Tracey, her dear friend who is Uncle Paz to her beautiful twins daughters Ava & Emma (they are 8). A few weeks ago, we decided that with Valentines Day approaching, it might be fun to do some desserts and work with chocolate. We made a very traditional Crème Brule, a Raspberry Mousse, and Chocolate Covered fruits. The girls love the mousse and there was the traditional licking of the utensils. I am not sure what was more sublime…
---
---
'Twas the month after Christmas, and all through the house Nothing would fit me, not even a blouse. The cookies I'd nibbled, the eggnog I'd taste All the holiday parties had gone to my waist. When I got on the scales there arose such a number! When I walked to the store (less a walk than a lumber). I'd remember the marvelous meals I'd prepared; The gravies and sauces and beef nicely rared, The wine and the rum balls, the bread and the cheese And the way I'd never said, "No thank you, please." As I dressed myself in my husband's old shirt And prepared once again to do battle with…
---
---
December Beets, cranberries, carrots, celeriac, mushrooms, cabbage, Brussels sprouts, squash, French shallots, spinach, onions, parsnips, pear, leek, potato, potatoes, rutabaga, Jerusalem artichoke. January Beets, carrots, celeriac, mushrooms, cabbage, squash, French shallots, endive, onions, parsnips, pear, leek, potato, potatoes, rhubarb, rutabaga, Jerusalem artichoke February Beets, carrots, celeriac, mushrooms, cabbage, squash, French shallots, endive, onions, pear, leek, potato, potatoes, rhubarb, rutabaga, Jerusalem artichoke
---
Ingredients: 5 Egg Yolks 1 Cup Sugar ½ Cup Grand Marnier, Cointreau or Kirsch 1 Cup Whipped Cream Beat yolks until creamy. Add sugar in slowly beating until smooth. Add liquor and cook over heat in a double boiler. Cool completely. Fold in whipped cream (already whipped.) Serve with fresh seasonal berries or fruit. This is lovely served in a glass one layer fruit, one layer sauce & repeat garnish with fresh mint sprig or berry or fruit used. Enjoy!
---
---